Computers and Laptops
Best deals of computers and laptops can be found in this section. One can find out deals about different brands and models here.
0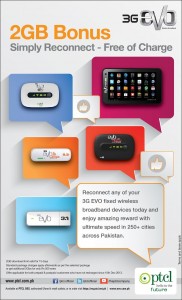 PTCL EVO 3G Reconnect Offer 2014 May / June
PTCL EVO 3G Wingle / Nitro / Cloud Reconnect Offer 2014 May / June – Promo / Promotion
Simply Reconnect Your EVO Device Free of Charge
and
Get 2 GB Internet Usage Without Any Recharge
Under this promotion, inactive PTCL EVO, Nitro, EVO Cloud, Nitro Cloud & EVO Wingle customers who have not recharged their pre-paid devices or paid post-paid bills since 10-December-2013 will be given a complimentary trial of EVO services with 2 GB of internet for a period of 15 days without any recharge.
Terms & Conditions Apply
Available at PTCL OSS, authorized Ufone & retail outlets.
Or to order, please visit https://my.ptcl.net.pk
Website: www.ptcl.com.pk
Facebook: www.facebook.com/ptcl.official
Twitter: www.twitter.com/ptclofficial
YouTube: www.youtube.com/theptclcompany